The Hamilton Dog Obedience Club
The Hamilton Dog Obedience Club is one of Canada's oldest and largest dog obedience clubs (established in 1952).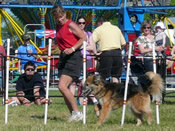 HDOC is a non-profit organization run by volunteers and therefore is able to keep the cost of training classes reasonable. Instructors are experienced dog handlers and trainers who volunteer their time to help you train your dog. They will help you teach your dog and show you that you can have fun doing it.
Officers and Directors
President: Diana MacKenzie
Immediate Past President: Cindy Zuk
Vice-President: Linda Sway
Secretary: Iva McCausland
Treasurer: Sandy Baird
Advisors: Susie Bell, Nancy Ouellette, Peter Stone
Training Committee: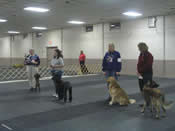 HDOC training classes in the Concession Building at the Ancaster Fairgrounds is a spacious facility with four clean, large matted rings and seating for spectators.